Guide
5 Reasons to Invest in Top-of-the-Business Headsets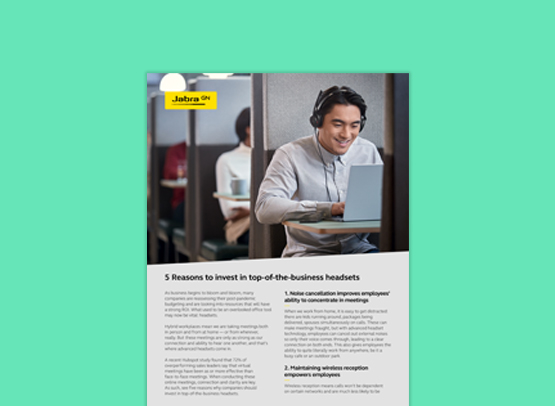 In sales, communication is everything. An agent that keeps the conversation flowing in the right direction is the one who hits the target first. Not just sales, all ideas start with clear communication. Similarly, unclear communication can lead to delays, poor productivity, and lost revenue.
Professional headsets empower agents to conduct online meetings with clarity and create opportunities that help excel your brand. Learn more about the importance of professional headsets and the top 5 reasons why you should invest in them.
Sponsored by: Jabra
This page is FastPass tested and is compliant with Microsoft Accessibility features.
Get Exclusive Access to the Guide
12380-12383
5 Reasons to Invest in Top-of-the-Business Headsets
By downloading this publication, you understand and agree that you are providing your personal information to Anteriad, LLC, and Anteriad may share your personal information with Jabra, pursuant to Anteriad's Privacy Policy. Furthermore, Jabra may use your personal information to provide you with marketing materials and contact you regarding its services, pursuant to Privacy Statement.